Accomplices' links to gunman Raoul Moat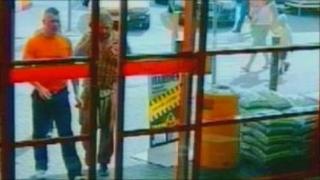 From the moment they got to the scene of a double shooting in Gateshead last July, the police had a clue that Raoul Moat was not acting alone.
Moat had dropped a mobile telephone before running away.
And a check quickly showed he had received a number of messages from his friend Karl Ness.
Ness had driven with him to Gateshead but stayed in the van when Moat got out.
One message from Ness to Moat read: "Well (we'll) all miss u mate if it goes down."
Moat had also sent a number of messages, as he hid beneath the window of the house where his targets, former partner Samantha Stobbart and her new boyfriend, Chris Brown, were chatting with friends.
One message read: "They have opened the window so im tempted to lean in but I dont know whether it will open enough. What u reckon? Chance it or not?"
Ness, 26, from Dudley, North Tyneside, had always admitted that he had travelled with Moat to the scene of the shootings in Birtley, Gateshead.
But he told police he stayed in the van and thought Moat, who he knew had a gun, was not going to harm anyone else, but perhaps kill himself.
As he waited he said he heard a shot and later told police: "I thought he had killed himself. I heard a lot of screaming. I broke down, I was shaking and crying."
He then drove off.
Hours later Moat turned up at the home of a relative of Ness's girlfriend in Newcastle's West End.
He said he and his co-accused Qhuram Awan, 23, of Blyth, Northumberland, were called to the house where Moat was waving a gun. Mr Ness's girlfriend was also there.
Moat told them he had shot Chris Brown three times and then shot Miss Stobbart.
Ness and Awan, 23, from Blyth, Northumberland, told police they went on the run with Moat because he was armed and that they feared for their lives and the lives of their loved ones.
But police were immediately suspicious when they found the texts from Ness on Moat's dropped mobile just after the double shooting.
Later Moat and Ness were captured on various CCTV cameras looking relaxed during the days they claimed they were being held hostage and fearing for their lives.
But police had to take the hostage claims seriously.
Suspicious letters
Det Ch Supt Jim Napier, who led the Northumbria Police investigation into Moat's crimes, said: "From the shootings in Birtley, we were very much into the phase of an open, reactive, murder inquiry.
"We used the media to appeal for witnesses and we asked the public for help.
"But then the goalposts suddenly moved, in that we may have had a hostage situation.
"We had Raoul Moat claiming he had hostages, and then we had family members reporting Karl Ness and Qhuram Awan potentially being held hostage.
"I knew Ness and Awan had been associating with Moat, and there was material on that mobile telephone which suggested that Ness in particular knew what Moat was planning.
"And then we got the letters to their families - and they raised suspicions that all was not what it seemed."
For Moat's accomplices, one letter in particular would prove damning. It was sent by Awan to his sister.
It was headed "Burn This Letter!!!" and read: "It is my friend who is holding me 'hostage'. I am actually safer than safe. Burn this letter after you have read it."
Spare parts
"I think the hostage scenario was plotted between the three of them, effectively giving them a defence in advance," said Mr Napier.
Ness had been friends with Moat for six or seven years. He eventually would join Moat in his tree surgery business, Mr Trimit.
"Moat was the dominant, bullying, assertive, bodybuilding individual. Ness would look after his house, his dogs, his car, run errands for him," said Mr Napier.
"He was under the influence of Raoul Moat and would do whatever Moat demanded, willingly, and always."
"There is no doubt in my mind Ness was responsible along with Moat for the death of Chris Brown. Moat did not act alone," Mr Napier added.
Getaway driver
"Ness worked with him willingly to try and help find Samantha Stobbart's new boyfriend. They were almost inseparable."
They would also make money from buying and selling cars, sometimes taking apart sports cars and selling them as spare parts.
It was this that brought Ness, then Moat, into contact with Awan.
Awan, known as "Sean" to his friends, worked as a mechanic at a garage in the Byker area of Newcastle, and he would supplement his income by working shifts as a nightclub doorman.
Awan became involved after the double shooting, and served Moat as getaway driver.
After their car was found abandoned in Rothbury they were eventually arrested on 6 July - three days after the Birtley shootings - when they were spotted by a police helicopter which was searching the area for Moat.
The gunman was on the run for a further three days before killing himself in the early hours of 10 July following a six-hour stand-off with police.