Middlesbrough lottery winner Andrew Garth still 'down to earth'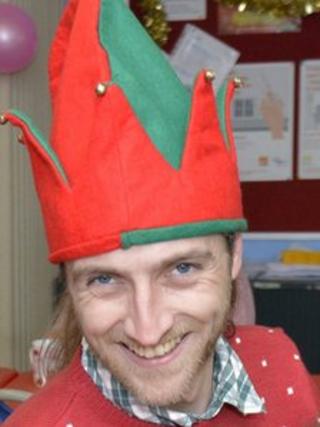 He won £1m in last year's Christmas Day lottery draw, but Andrew Garth is still buying tickets.
The 29-year-old, from Middlesbrough, has fixed his car, helped buy a house for his sister, donated to charity and learned that £1m does not go as far as one might think.
People ask him why he is still working and he tells them: "You can't just give up working on a million pounds."
"I'm only 29 and a million pounds isn't going to last me for the rest of my life," he says.
As a freelance light and sound events technician he was able to take "a bit of time off". But Mr Garth will not give up a job that involves working at music venues, Stockton Festival and, recently, Durham Lumiere.
"I enjoy my job," he says. "You get to meet all sorts of people from all over the world. You get to see gigs for free."
As a EuroMillions winner he was given support from organiser Camelot, which put him in touch with a solicitor and an accountant.
"You can explain to them what you think you're going to do with your money," he says. "They can advise you that you're going to have nothing if you do that."
He decided on "blowing" some money to get it out of his system but says "if you don't put a set amount aside you don't really know when to stop".
The rest is in the bank and he still has an idea of setting up a live music venue in his home town, if he can be sure there is real demand.
But he says he is still "down to earth" and has no intention of rushing into anything and losing it all.
"I'm still the same me. I've got a bit of money in the bank now, that's the only difference."