A67 landslip: £4m raised to repair Low Carlbury road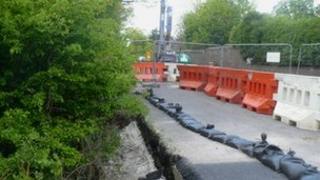 The £4m needed to repair a landslip on a busy commuter route has been raised with the help of a government grant.
The A67 at Low Carlbury is partially open after being shut in March, but is at risk of further closure.
Darlington Council bid for £2,445,000 from the government. It will contribute £878,000 itself towards the repair and Northumbrian Water has given £596,000.
The A67 is the main route linking Darlington to Barnard Castle and Teesdale.
Bill Dixon, leader of the Labour-run council, said a "strong case for the funding" had been "heard and recognised".
More than 8,000 road users have faced delays on a daily basis and bus services and businesses have been disrupted, the council said.
Repair work is expected to start in May but there may be further investigation works in January.