'Time is crucial' in search for swimmer John-Paul Conley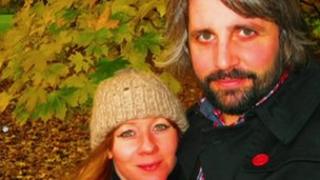 The girlfriend of a British man missing after being swept away while swimming in South East Asia says she remains hopeful he will be found alive.
Kate Downey's partner John-Paul Conley, from Middlesbrough, has been missing since Tuesday after getting caught up in a strong current in Laos.
Thousands of pounds have been raised by family and friends to pay for a chartered search and rescue helicopter.
Miss Downey said "time was crucial" as search efforts were stepped up.
"If anyone can get themselves out of this, it would be John," she told BBC Tees.
"He's a strong guy, he's a very good swimmer and he's got good practical skills."
Food and water
The helicopter which was funded following an online appeal, searched the Don Khon 4,000 Islands region on Thursday after initial searches by local fishermen.
The effort is due to continue on Friday when land searches will also take place.
Miss Downey said she had been overwhelmed by the support from family and friends.
"I can't explain the sense of relief that I felt at seeing the helicopter searching around for him, it gave me a lot of hope that we can find him," she said.
"It's not the first time this has happened and people have been found safe and well. Time is crucial because we don't know what his food and water situation is like."
The couple were travelling around the world on a 12-month trip. Mr Conley was carried away in a "fast-flowing stream," said Miss Downey, 29.
Middlesbrough South and East Cleveland MP Tom Blenkinsop raised the issue in the House of Commons on Thursday.
Commons Leader Andrew Lansley said he would ask the Foreign Office minister responsible for the area for an update on what support was being provided.