Village 'touched' by road death of Nathan Smith, 7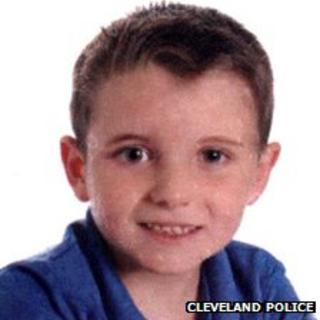 The family of a seven-year-old boy who died after being hit by a van have described him as a "beautiful, happy and cute little boy".
Nathan Smith died in hospital on Friday shortly after being struck in Boosbeck High Street, near Redcar, Cleveland.
A 22-year-old man has been arrested and bailed on suspicion of causing death by dangerous driving.
Nathan's mother Kelly Smith said the entire village of Lingdale, where they lived, had been touched by his death.
Police said the youngster was struck by the Peugeot 206 van after he got off a bus with his mother and brother.
Ms Smith said: "Nathan was always very full of life and was loved by everyone.
"He was very bright and loved going to school. He adored all his family, friends and teachers and got along with all the people he knew and will be very sadly missed.
"It is a very difficult time for all the family and all the people in Lingdale, Boosbeck and surrounding areas whose hearts he touched."
His brothers Ryan and Braden added: "What we shall miss most of all is having him around to play football. We miss you terribly."
Nathan's stepfather Alan Stiff said: "He was one of the happiest kids I have ever met.
"He was very bright and made everybody laugh with all the things he used to do. He was much loved by my own four kids.
"I will miss everything about him, his gorgeous cheeky smile, his sense of humour and most of all his presence."