Middlesbrough referendum voters to decide on leadership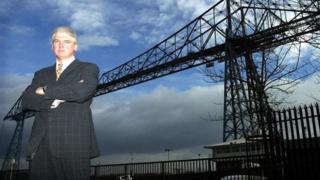 Former detective Ray Mallon has been the elected mayor of Middlesbrough for 11 years. This week voters will decide whether his role should be abolished.
Describing the momentum that swept Ray Mallon to power in 2002, former councillor Ken Walker said: "He was an unstoppable machine.
"The media loved the perception of the guy who was going to come in and clean up the town."
Mr Walker was leader of Middlesbrough Council for seven years before the man dubbed "Robocop" swapped "zero-tolerance" policing for politics.
To make the switch, Mr Mallon admitted 14 disciplinary charges that followed Operation Lancet, an inquiry into wrongdoing at Cleveland Police, so he could leave the force and be on the ballot paper.
Standing as an independent, he cantered to a landslide and will have completed three full terms when he leaves office in 2015.
'Ultimate power'
On Thursday, a referendum will determine if anyone will step into his shoes, or whether a council leader and cabinet should run the town.
Mr Walker, who lost his council seat in 2011, initially backed the elected mayor concept.
"When the Labour Party first supported the idea of elected mayors I was certainly quite keen," he said.
"I'm not afraid to say I got it wrong. It was the biggest political mistake of my life and it's one I openly apologise to the people of Middlesbrough for."
The flaw of the mayoral system, Mr Walker says, is that it "gives ultimate power to one person".
As chair of Cleveland Police Authority, Mr Walker clashed with Mr Mallon during Operation Lancet.
He is critical of high-profile regeneration schemes during the mayor's reign, some of which have been stalled by the recession.
"This town resembles more of what I remember of post-war Middlesbrough with the derelict sites," he says.
"The town owns the accolade of being top of all the wrong leagues, alcohol, unemployment, the list goes on and on."
Although three election victories provide evidence of Mr Mallon's popularity, members of the public were collecting signatures for a petition that could have forced a poll on his position before councillors voted 39-1 in favour of holding the referendum.
Independent councillor Ron Lowes believes a new independent mayor would be "the way forward".
"Ray Mallon has done a good job in very difficult circumstances," he says.
In contrast with Mr Lowes, the majority Labour group on the council, having worked closely with Mr Mallon throughout his tenure, is now campaigning "for change" and wants the old system reinstated.
Councillor Charlie Rooney, the group's leader, said getting the wrong personality as mayor "can be disastrous".
Of the incumbent, he said: "Channel 4 News introduced him recently as being unique outside of London in terms of the impact he's had and I think that's a pretty fair reflection."
For his part, Mr Mallon has said he has no preference on which way the vote goes, but he did urge would-be mayoral candidates to throw their hats in the ring.
So far, only businessman Andy Preston has heeded that call.
Mr Preston admits that when the referendum was announced, he got a "sinking feeling".
"I thought 'there's a danger here that we go back to the old system, things get even worse, Middlesbrough starts to take two steps backwards and the party politicians that tweet about national issues instead of getting out there and doing things will prevail.'"
It is "no secret" Mr Preston was selected as a Labour parliamentary candidate in 2007 before stepping aside for family reasons, he said.
Now though, he is independent.
And regardless of the make up of national governments and the rosettes worn by local MPs, he believes Middlesbrough has "declined and struggled" for 40 years.
Turnout fears
"I blame that on the leadership," he said.
"And I don't mean the leadership of the last five years, I mean the leadership of the last four decades.
"I think we need intelligent, experienced and strong leadership from a range of people across Middlesbrough who have the best interests of the town at heart and who aren't going to play national party politics.
"There's a selfish aspect to this, I'd like to be mayor, I'd like to be at the centre of things, I'd like to be seen to make good things happen. That would give me satisfaction."
Mr Preston says the council leader model "has failed Middlesbrough" while Mr Walker insists it would be an "absolute tragedy" to elect a new mayor.
Both fear a low turnout.
"I just don't think people will get engaged in the process," Mr Walker said.
"They just won't see the importance. This is a major political turning point in the town."
Those on either side of the argument can at least agree with that sentiment.