HMS Somerset crew saves lost racing pigeon in Atlantic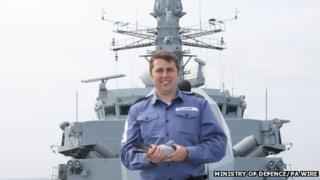 A pigeon which got lost during a cross-Channel race will be reunited with its owner after being rescued by the crew of a Royal Navy frigate.
The bird, found 300 miles (483km) out in the Atlantic, was named Paul by the crew of HMS Somerset.
But Leading Seaman William Hughes, a former pigeon fancier, later checked it over and discovered it was in fact female.
The bird's ID ring helped track down its owner in Redcar, Teesside.
Hungry for cereal
Owner Gil Hartshorn, 75, said the bird had been released in France.
Mr Hartshorn will be reunited with the pigeon next week when Leading Seaman Hughes goes on leave.
The bird will now be retired from racing.
"I'd be too worried she would land on the next Royal Navy warship and I'd never see her again," Mr Hartshorn said.
"The Navy have done such a good job of looking after her."
The Navy said Paul regained her strength by eating breakfast cereal and staying in a makeshift coop next to a Merlin helicopter in the frigate's hangar.