Rare little tern colony at Crimdon: Reward offered to find thieves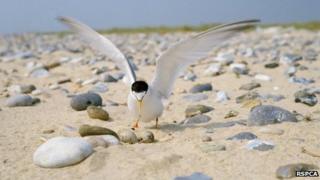 A £2,000 reward is being offered to find out more information about the theft of more than 50 eggs from a colony of endangered sea birds.
The little tern eggs were stolen from breeding pairs at a site at Crimdon beach near Hartlepool on 19 June, where 65 pairs of the birds had been nesting.
Conservationists feared the colony would be wiped out but the remaining birds have laid enough eggs to survive.
A £2,000 reward is now being offered so the person responsible can be found.
The RSPB and Teesmouth Bird Club are offering the reward.
Alistair McLee of Teesmouth Bird Club said: "The club members were outraged to discover this financially motivated theft.
"This attractive, and locally rare species, has enough problems to contend with whilst breeding, without this criminal action."
Police have yet to make an arrest.
Despite about a third of the pairs abandoning the colony in the wake of the theft, Heritage Coast officer Niall Benson said the remaining birds had produced about 30 chicks.
Little terns need a mixture of sand and shingle to make their nests, which means they usually choose beach areas susceptible to attack from natural predators like kestrels and sparrow hawks.