Middlesbrough 'claims' designer Christopher Dresser
20 June 2013

From the section

Tees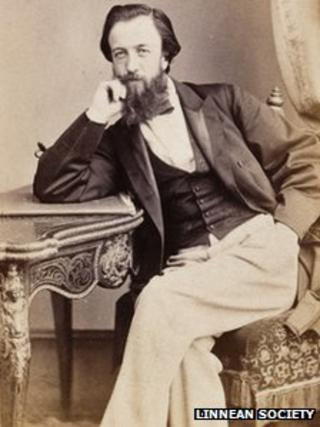 The "father of industrial design" is being honoured in the Teesside town where he aimed to set up an art industry colony.
Christopher Dresser has also been described as the forgotten figure of the Victorian art world, as he never gained the recognition of contemporaries such as William Morris.
However, he created what were effectively some of the first designer labels in ceramics, wallpaper, textiles, glass and pottery ware.
In 1879, Dresser helped found Linthorpe Art Pottery in Middlesbrough to provide employment for redundant ironworkers.
A £10,000 bequest has now led to the formation of the Christopher Dresser Society at Teesside University, to recognise his work and create a resource for further scholarship.
It is being launched with a lecture and symposium later, and there will also be behind-the-scenes events at the Dorman Museum, which holds the world's largest collection of Linthorpe Pottery.
Dresser was born in Glasgow in 1834 and went on to travel widely in Japan, America and across Britain.
Although he was based in London for much of his life, there were a number of ties to the North East.
Dresser was particularly concerned with unemployment in the region.
'Consultant designer'
Paul Denison, principal lecturer in design history at Teesside University, said: "Research suggests he had family in Darlington and North Yorkshire, and his father at one point lived in Stockton.
"He found the environment for manufacturing particularly fruitful, the people welcomed him with open arms and were more to his liking than London society, which appeared to exclude him."
However, his main local legacy is the Linthorpe Pottery.
Mr Denison said: "The story goes that he knew John Harrison, owner of the Sun Brickworks and suggested to him that the clay used to make bricks was also suitable for domestic ware.
"Dresser said 'what you should be doing is making pottery'.
"Harrison set it up and employed Dresser as what we'd now call a consultant designer, but was then an arts superintendent.
"He was paid at piece rate to produce a certain number of designs. He ended up doing hundreds."
Originally, it was envisaged the "arts industry" complex would branch out into other areas but the Dresser/Harrison association only lasted four years.
It is not clear why they parted ways - one theory is that Dresser's designs were considered too avant garde.
Yet it was perhaps his perceived commercialism that was responsible for his relative lack of present-day recognition.
Local talent
Mr Denison said: "He doesn't get quite the attention he deserves.
"There was a period between 1904, when he died, and the 1930s, when he was almost written out of history.
"This had something to do with the fact that there was a sort of pecking order for who got written about and who didn't.
"His contemporary William Morris, who was actually born in the same year, won out.
"Dresser was considered to be very commercial.
"His signature was his brand - in that respect they were the first designer labels."
The Christopher Dresser Society hopes to bring wider recognition for an influential figure in the history of design.
"His peripatetic life means that nobody has really laid claim to him," Mr Denison said.
"Since Middlesbrough has this amazing collection of Dresser ware, it is appropriate that we bring his name to a wider audience.
"Dresser was concerned with unemployment, and the same circumstances prevail now.
"Maybe there's a way of thinking about locally-produced material, using locally-tapped talent.
"There are lessons here from history."