Hartlepool hospital intensive care unit to close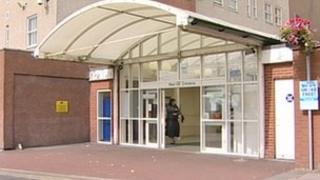 Hartlepool hospital's intensive care unit is to close with services moving to North Tees Hospital in Stockton.
The Hartlepool and Stockton Care Commissioning Group said there were problems with attracting staff and the standard of equipment.
It insisted the unit is safe at the moment however it cannot guarantee standards in the future.
The group said a public consultation is due to take place for 12 weeks and staff would be moved to Stockton.
'Not about money'
A report by the National Clinical Advisory Team (NCAT) supported the plans to move the services to the University Hospital of North Tees in Stockton.
The University Hospital of Hartlepool will become a centre for diagnostic tests, day case and low risk operations and the report acknowledged the changes should be made "as quickly as possible".
Dr Paul Williams, a GP from Hartlepool and Stockton-on-Tees Clinical Commissioning Group, said: "If you want to have consultants round the clock then you can't do that in every small hospital in the country.
"This isn't about costs, it's not going to save money at all. It's about what is safe for the patients and people of Hartlepool."
Hartlepool MP Iain Wright said: "Staff want to be able to provide healthcare and can draw on the full range of emergency care facilities. The report said at times nursing staff, particularly at night, feel unsupported if a clinical error occurs.
"[The unit in Hartlepool] is often under occupied, the national average for a high dependency and intensive care unit is about 75%, the one in Hartlepool is at about 50%."
The change is hoped to be an interim solution until a new purpose-built hospital is approved.
David Emerton, medical director for North Tees and Hartlepool NHS Foundation Trust, said: "We need to take this interim step now to preserve and improve quality and safety."
The NCAT report said the change is likely to affect about 30 patients a day from the Hartlepool and Easington area.
An extra 120 beds will be made available at University Hospital of North Tees.
The public consultation is due to begin at the end of May.