Camilla backs Middlesbrough child literacy campaign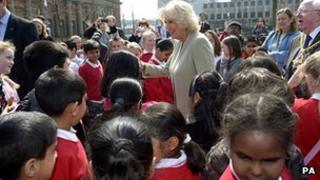 The Duchess of Cornwall shook hands with "a lion" as she celebrated reading and literacy with hundreds of schoolchildren in Middlesbrough.
Camilla, who is patron of the National Literacy Trust, was supporting moves to get more youngsters involved in reading and creative writing.
During her visit she listened to poetry and met the town's football mascot, Roary the Lion.
The event was led by children's author Vivian French.
During a workshop at Middlesbrough's Central Library, children told the Duchess about a story they had written.
She was asked to read out three possible titles for the story, which the children then voted on.
'Wonderful work'
Later, she was joined on a stage outside by the winners of the "Love Middlesbrough" poetry competition, along with about 500 children who cheered and clapped.
The Duchess then took part in a children's book giveaway outside a Middlesbrough Football Club bus before moving on to the Middlesbrough Institute of Modern Art (Mima).
Presenting an award to two volunteers, she said: "I want to thank everyone for the wonderful work you are doing here in Middlesbrough.
"I have seen the self-confidence the children have from it and it seems you are going from strength to strength."
Jonathan Douglas, director of the National Literacy Trust, said: "We're delighted to have Her Royal Highness support our work in raising the profile of literacy in Middlesbrough."
Camilla also spent time meeting about a dozen teenagers and the staff of Barnardo's Sexually Exploited Children on the Streets (SECOS) project in the town.
She is president of the children's charity and has been a high-profile speaker on rape and the victims of sexual abuse.