Middlesbrough Victorian visionary's pottery legacy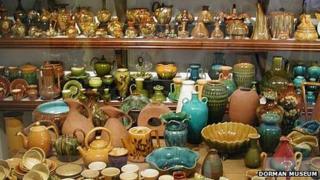 A Victorian visionary's design legacy will be showcased at a Middlesbrough museum thanks to lottery funding.
In the 1870s Christopher Dresser created the Linthorpe Art Pottery from local red clay, in the hope of setting up an arts colony to provide employment for redundant ironworkers.
It was known for its innovative design and was exported around the world.
A £214,464 Heritage Lottery Fund grant will be used to develop the Dresser collection at the Dorman Museum.
It holds the world's largest public collection of Linthorpe Pottery, along with metalwork, ceramics, glass, textiles and wallpaper from the "father of industrial design".
Adverse financial conditions put paid to Dresser's ambitions to develop other areas of production as fully as the pottery, which remains an important part of local heritage.
'Major figure'
The grant, along with £45,750 from the Art Fund, will enable the purchase of a private collection, a gallery extension, and the creation of an archive.
Middlesbrough Council's regeneration councillor, Charlie Rooney, said: "The town has a well-earned reputation for innovation and industry.
"It's fitting that the life and work of a major figure like Christopher Dresser should be celebrated in this way."
Ivor Crowther, head of Heritage Lottery Fund North East, said: "Christopher Dresser was a visionary of his time.
"People from near and far will now have the chance to enjoy and learn about this fascinating collection and Dresser's legacy long into the future."