John Coates murder trial: Body found in bath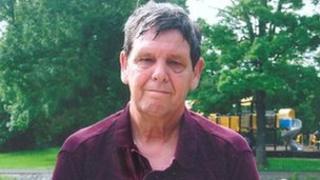 A man was dumped naked into his bath after he was beaten to death, a court has heard.
The decomposing body of John Coates, 61, was found at Fleet House, Middlesbrough, in September.
Relatives found him days after he died and at first believed his death was an accident, the prosecution told a jury at Teesside Crown Court.
Robert Baker, 24, also of Fleet House, denies murder.
Prosecutor Nicholas Lumley QC said: "John Coates was attacked in his own flat; a hammer or equally lethal weapon was used to strike him over and over again."
A thumbprint matching the DNA profile of Mr Baker was found in the victim's blood in the living room, Mr Lumley said.
The court heard how Mr Baker bought two bottles of bleach, a packet of toothbrushes, a disposable barbecue and firelighters in the days after Mr Coates was killed.
Members of the jury were shown CCTV images of Mr Baker making regular trips to the communal laundry facilities and removing bags from the tower block on Cargo Fleet Lane.
Boasted on Facebook
Mr Baker stole items belonging to Mr Coates, including an XBox and a tablet computer, before boasting about his new possessions on Facebook, it was alleged.
And before he was arrested on suspicion of the murder, he wrote on Facebook: "RIP John. Taken too soon."
In police interviews, Mr Baker said he had only ever stepped into the hallway of Mr Coates' flat when returning a bike he had borrowed.
The two men had come into contact because Mr Coates held a key for a communal area at the flats.
Mr Coates' brother Raymond discovered the body four days after his death. It was initially thought to be an accident before a post-mortem examination revealed serious head injuries.
The trial, which is expected to last three weeks, continues.