£120m Middlesbrough Western Gateway 'may be modified'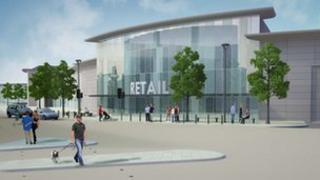 A regeneration chief said he will take on board concerns about a £120m investment plan for Middlesbrough.
The Western Gateway project, in the town's Cannon Park area, was unveiled last year and included a new supermarket, shopping units and improved transport links.
Middlesbrough Council claimed it was a "bold vision" for the area.
The North East Chamber of Commerce (NECC) has questioned the project's need and scale.
NECC head of member relations Rachel Anderson said: "While we can see genuine economic benefits to improving Cannon Park, it's hard to ascertain where demand for such radical proposals will come from."
She said there appeared to be no appetite among developers for such projects and that could lead to delays in construction and uncertainty for businesses on the site.
While the NECC backed some of the scheme, including the food store, it said it was concerned plans for more large scale retail space would badly affect the town centre.
Council executive member for regeneration and economic development Charlie Rooney said: "I would reassure them that our aim is the same as theirs. We will take on board their comments.
"We might be looking at modifications to the masterplan."
Mr Rooney said the aim was to get a firm commitment over the supermarket and use that to kickstart the rest of the plans, although he recognised the difficult economic circumstances.