Teesside A&E delays 'unacceptable', government says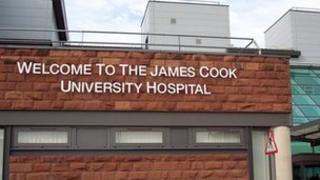 Delays at a Middlesbrough Accident and Emergency unit are "unacceptable", the government has said.
Middlesbrough South and East Cleveland Labour MP Tom Blenkinsop has raised concerns over long waiting times at James Cook University Hospital.
Responding in a Commons debate, Health Minister Dr Daniel Poulter said the delays were unacceptable.
The hospital trust said the unit had been "exceptionally busy".
"Last year an ambulance crew brought a patient to the hospital but he was not officially handed over to A&E staff," Labour's Mr Blenkinsop told the debate.
"Before he could be seen by either a nurse or a doctor he went into a fatal cardiac arrest," he said.
Mr Blenkinsop mentioned media reports that the North East Ambulance Service had "admitted it was struggling to meet demand".
'Mismatch of resources'
Middlesbrough's Labour MP Andy McDonald said his mother had lain on a hospital trolley for five hours at the same hospital waiting for admission to a ward.
"Those ambulance staff had to remain with her... until she was duly admitted," he said. "A complete and utter mismatch of resources."
Dr Poulter said the South Tees Hospitals NHS Trust had taken steps to resolve the problems but he would watch the situation.
"I'm taking an active interest and will welcome further discussions if there are further problems in the future because these delays are unacceptable," he said.
The trust's operational director Susan Watson said they were working to "minimise handover times as much as possible and address some of these current pressures".
"There have been some delays with ambulance handovers which is frustrating, not only for patients and their families but also for both hospital and ambulance staff, whose first priority is the patients," she said.