Teesside High School bidding to renovate air raid shelter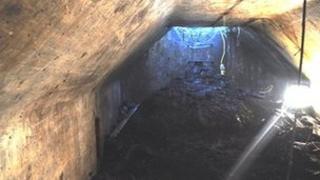 History lessons at a Teesside school could be taken outside the classroom after a World War II air raid shelter was found beneath its playing fields.
The bunker was found at Teesside High in Eaglescliffe two years ago when a tree fell down in stormy weather and the school is now applying for funding to renovate it.
Teachers at the school hope to convert it into a "living history project".
The shelter has been assessed and is structurally sound.
It is thought to have been built by chemical company ICI for employees.
The school is appealing for anyone with more information about its past to come forward.
'Ration books'
Head of history Susan Casey said it would be of huge benefit to pupils.
"To have something where we can act out what it was like to live during the second world war is fantastic," she said.
"We're really keen for anybody who knows anything about what it was used for, or how many people it could fit in, to contact us.
"Artefacts like ration books or diaries would be really useful to us."
Teachers believe ICI built the shelter in the grounds of Woodside Hall, where the school now stands.
Head of marketing Helen Mellor said the bunker could be used by Teesside High and other schools.
She said: "We were aware that there was a shelter in the grounds somewhere but we weren't quite sure where because it's completely invisible from the surface.
"A tree fell in the storms a couple of years ago and we actually discovered one of the entrances to the tunnel to the air raid shelter.
"We need to reinstate the staircase properly and we're going to put some seating in here, some wartime artefacts and some proper lighting and turn it into our own living history project."