SSI steelmaking operation in Teesside 'could expand'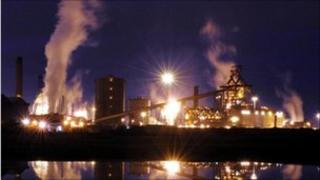 More than two years after Redcar's blast furnace was mothballed by Corus, new owner SSI is bringing it back to life.
It was a small hiatus in about 170 years of Teesside iron and steelmaking.
More than 1,000 people are currently employed on the site, and eventually the total will rise to 1,800.
But that may not be the full extent of SSI's plans. It is believed the company's ambition does not restrict itself to running the plant on the same scale as former owner Corus.
Future markets
SSI has bought a colossal site that could easily accommodate another blast furnace - something the company has hinted at.
So where would demand for yet more steel come from?
The current plan is to ship almost all the steel made at Redcar to Thailand - about 3.6m tonnes a year of it.
There it will mainly be used in the automotive sector, which is booming. Thailand produced 1.6m cars last year.
There is demand from the rest of South East Asia, at least for the next two to three years - but future markets could be closer to home.
According to Daniel Gleeson, a writer on specialist trade magazine Metal Bulletin, the UK is a potential market.
He said: "Although at the moment all the steel is going to Thailand, there will be a lot of demand from offshore wind farms in the UK. Maybe they could get some extra processing facilities on Teesside, because at the moment there isn't anyone filling that demand."
Something that could encourage SSI to expand is that it does not have the huge costs that would have come from setting up a facility from scratch.
It paid about £290m for the former Corus plant, and it invested about £1.6bn more.
But if it had built the blast furnace and associated complex from new it would have cost about £6bn, so the Redcar deal has been something of a snip.
Expansion though is for the future - at the moment it seems enough that steelmaking has resumed in Redcar.
It is irresistible to conclude that steel belongs on Teesside, it has been shipped from this area all around the world, and it is at the very heart of extraordinary structures such as the Sydney Harbour Bridge.
It may be a somewhat sentimental song but Middlesbrough-born singer Chris Rea captured the symbiotic relationship in his song Steel River.
Steel is in Teesside's DNA, in its personality. It may have lain dormant for two years, but today it woke up.