Concerns over County Durham bus routes cut plan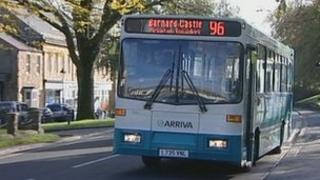 Bus passengers concerned about plans to cut services in County Durham held a public meeting.
Arriva is planning to end the number 95 and 96 services, which run from Barnard Castle to Middleton-in Teesdale, because of low passenger numbers.
It said the services made a loss and that was due to get worse because of fuel prices and grants being cut.
But residents said the services were vital and held a meeting on Saturday to discuss the issue.
They fear the ending of the services would cut them off from amenities.
Among the concerns raised were people not being able to get to appointments and people who did not drive being forced to rely on others.
Three pupils from Teesdale School gathered 900 signatures for a petition in less than a week.
Arriva North East marketing manager John Fozzard said it was currently reviewing a number of services and the current situation was they would be cancelled from 2 January.
He said they were in talks with Durham County Council to see if any of the services under review could be retained or changed to make them commercially viable.
He said: "These services already make a loss as it stands and this becomes much worse next year due to a combination of our hedged fuel price and the reduction in Bus Services Operators Grant.
"Between the two our fuel price rises by 38% which makes the performance of these services even worse."