Cleveland Chief Constable Sean Price vows to clear name
14 October 2011

From the section

Tees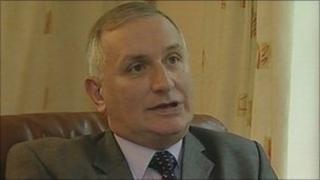 A chief constable who was arrested and suspended said he is confident his name will be cleared and he will return to his job.
Cleveland Chief Constable Sean Price was arrested in August along with two others in an investigation into allegations of corruption and fraud.
He insisted he had done nothing wrong and would return to work one day.
He said no criminal allegations had been put to him and he had raised concerns about aspects of the inquiry.
The three were arrested on suspicion of misconduct in a public office, fraud by abuse of position and corrupt practice. They have been bailed until April.
Mr Price, who has been with the police more than 30 years, said the last couple of months had been "horrible" and it had been "a very difficult period".
"It is humiliating in one sense. But I suppose at the back of my mind I know that I have done nothing wrong and I know that this will be cleared, my name will be cleared," he said.
"But unfortunately until that happens I know there will be people saying no smoke without a fire, I know there will be people saying there must be something in it because why would you arrest a chief constable if there wasn't? But there isn't and I will have my day."
'Carefully considered'
He said no criminal allegations had been put to him in 30 hours' of detention or since he had been on bail.
He added: "(I am) completely innocent of any wrongdoing and that will be proved in due course and I will come back to do my job because that's what I want do."
The investigation is being led by Warwickshire Police.
In a statement, it said: "We will not comment on conversations between Mr Price and members of the investigation team and legal opinions that may have been shared.
"The investigation receives legal advice as does Mr Price. All major decisions relating to the investigation are carefully considered and documented.
"The investigation has been reviewed and will be subject to further review as it progresses. The inquiry is ongoing."