No confidence vote over Hartlepool A&E closure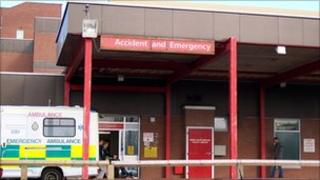 People angry at the closure of Hartlepool's accident and emergency unit have held a vote of no confidence in the hospital trust's board.
Hartlepool Council proposed the vote at a public meeting it had called to discuss the closure on Thursday evening.
About 300 members of the public attended and the vote was unanimous.
North Tees and Hartlepool NHS Foundation Trust described the vote as "disappointing".
The A&E unit at the University Hospital of Hartlepool closed in August after a review concluded it could not attract enough senior staff to run the service safely.
'Very clear'
Patients are now treated at a minor injuries unit at the town's £20m One Life Centre, the emergency assessment unit at Hartlepool's hospital, or the A&E unit at North Tees Hospital, in Stockton.
However, campaigners believe a town the size of Hartlepool should have its own A&E department.
Carl Richardson, chairman of Hartlepool Council, said: "[The trust is] going to have to take notice of what was said.
"The council is very clear about the position, we are against any removal of services from Hartlepool to elsewhere."
No-one from North Tees and Hartlepool NHS Foundation Trust was able to attend the meeting, so questions were fielded by the chair of NHS Hartlepool, Steve Wallace.
He said it was not clear what the vote would mean.
"That's to be worked out, quite frankly, because it hasn't really happened before and we don't know anywhere in the country that it has," he said.
"The trust will have to consider how it received it.
"My hope is they will continue to engage with the council and scrutiny committee."
The hospital trust's chief executive Alan Foster said in a statement: "Naturally we're disappointed with the vote, and disappointed the council decided to go ahead despite knowing that the chairman and chief executive were not available to attend."