Public meeting over Hartlepool A&E services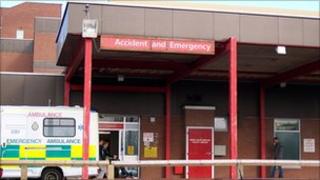 A meeting about hospital services in Hartlepool is to go ahead with no health trust representative present.
The council had set up the extraordinary meeting on 8 September, after the controversial closure of the town's accident and emergency unit.
This was adjourned when more people turned up than the venue could hold.
The trust said neither the chair nor chief executive were available for the rearranged event on Thursday. The council said it was "disappointed."
The A&E unit at the University Hospital of Hartlepool closed in August after a review concluded it could not attract enough senior staff to run the service safely.
Under the new arrangements, patients are now treated at the town's £20m One Life centre, the emergency assessment unit at Hartlepool's hospital, or the A&E unit at North Tees Hospital, in Stockton, it said.
However, campaigners believe a town the size of Hartlepool should have its own A&E department.
High priority
The council had arranged a public meeting at the Civic Centre, with seats for about 60 people, however, it was unable to take place for safety reasons when more than double that number turned up.
It will now be held at the Hartlepool College of Further Education.
Council chairman Carl Richardson said: "The closure of the A & E Unit is the most talked about issue in the town at the moment and I do find it extremely disappointing that the trust is not treating this as a high priority."
Paul Garvin, chair of North Tees and Hartlepool NHS Foundation Trust, said in a statement that he did offer to attend a public meeting but neither himself or the chief executive were available this week.
He added: "While totally appreciating the frustration that everyone is feeling at the moment the main thing now is that we find a way forward, and I look forward to a constructive discussion on my return."