Saltburn scarecrow 'PC Speedy' slows down motorists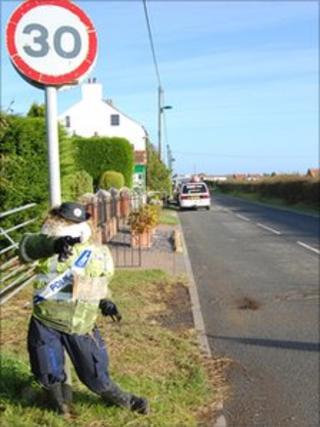 A scarecrow dressed as a policeman has been slowing down motorists in a Saltburn village.
'PC Speedy' has been used by a family in Moorsholm to encourage drivers to stick to the 30mph speed in their village.
Residents want a permanent solution to the speeding, but in the mean time, Kate and Mark Hillyard have taken matters into their own hands.
Their two children Morgan and Findlay designed PC Speedy for a scarecrow competition, but the family have decided to keep her by the roadside claiming it has had an impact on motorists.
Mrs Hillyard said: "Ultimately we want to just slow traffic.
"It's absolutely ridiculous, some days it feels like a race track, it's quite frightening. Just even walking on the pavement can sometimes be quite frightening because of the speed of the cars."
'Positive role model'
The scarecrow become part of the village after Morgan and Findlay designed and won the village's annual scarecrow competition.
After their pet cat was ran over, the children wanted to install the scarecrow at the side of the road to prompt drivers to slow down.
It comes complete with a sheriff's badge, gun, handcuffs and police tape.
Mr Hillyard said: "It has made a difference, it's made a positive action... all in all she's being a really positive role model in Moorsholm."
Residents say they want the 30mph zone in the village extended.
They met with Redcar and Cleveland Council in the hope they would take firmer action against speeding motorists.
Helen McLuckie, from the council, said it was making arrangements to try and address the issue, but the decision to move the 30mph sign was ultimately the responsibility of the Department for Transport.
She said: "I understand the concerns... we will look at this issue and I will be having a meeting with officers and going to look at the site.
"We need to look at what speeds are in that area and we need to look at addressing those issues and it might not necessarily be just moving the 30mph sign, we might have to do some other safety improvements in that area."
A spokesperson for Cleveland Police said: "We are aware of residents' concerns surrounding the speed of traffic on Freeborough Road and are working alongside Redcar and Cleveland Borough Council to carry out a speed survey in order to assess the situation further."