IPCC probe Cleveland Police chief and deputy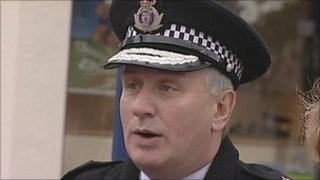 The Independent Police Complaints Commission (IPCC) is to investigate corruption claims against Cleveland's chief constable and his deputy.
Sean Price and his deputy Derek Bonnard were arrested earlier this month on suspicion of corrupt practice, misconduct and fraud.
The arrests are linked to a probe into a number of people with current or past links with Cleveland Police Authority.
The IPCC will work with lead investigators from Warwickshire Police.
An IPCC senior investigator will now work alongside the Chief Constable of Warwickshire Police, Keith Bristow, to manage the element of the investigation into potential misconduct or gross misconduct by Mr Price, DCC Bonnard, and the force's former head of legal services, Caroline Llewellyn, who was also arrested.
Mr Bristow will remain in charge of the investigation into criminal matters.
The three were arrested in raids at their homes on 3 August and were suspended from their posts soon afterwards.
They have all been bailed until October.
'Public confidence'
IPCC Commissioner Nicholas Long said: "Allegations of corruption within a police force have a significant impact on public confidence and must be investigated thoroughly.
"While I believe it important that the IPCC becomes involved to provide wholly independent oversight, I also believe it important that we do not do anything that might undermine the ongoing investigation.
"It is for this reason that I have decided it appropriate for one of our senior investigators to work alongside Mr Bristow with a specific focus on allegations of potential misconduct or gross misconduct."
Mr Price, who became chief constable in 2003, has denied any wrongdoing and vowed to clear his name.
The IPCC is already independently investigating an allegation that Mr Price used undue influence to have an individual appointed to a position within the police force.