Teenage drag queen from County Durham in BBC film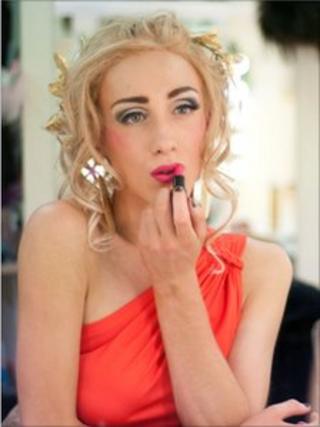 A teenager from County Durham who wants to be a professional drag queen is sharing his story in a BBC documentary.
Jamie Campbell from Bishop Auckland, is starring in the BBC Three film Jamie: Drag Queen At 16.
The documentary follows the story of Jamie's life from dressing up since the age of six, to his ambition to be a professional drag queen and have his own show in Las Vegas.
The show airs on BBC Three on Wednesday, 20 July at 2100 BST.
'Priscilla twist'
In the documentary Jamie spends time with an established drag artist and performs in front of an audience for the first time as his alter ego Fifi La True.
Jamie said: "I only really started telling people that I wanted to be a drag queen about a month or two ago and the reaction has actually been so amazing.
"Even before I came out as a drag queen, as I'm a dancer as well people always used to call me Billy Elliot and it is a bit of a Billy Elliot story really but with a little Priscilla twist."
His passion for dressing up started at six-years-old.
"I can't really remember a time when I didn't do it, many drag queens have told me it's how they started as well, dressing up in their mam's clothes and stuff," he said.
"I want to look as much as possible as a gorgeous, glamorous woman."
'Negative comments'
Jamie, who said he had become comfortable and confident as his alter ego, told his family and friends he was gay when he was aged 14.
He said he received a lot of support and found that by expressing his feelings online, he became a role model for others.
"People have contacted me on things like Facebook and told me that I'm really amazing for going through with it and I'm really inspirational," he said.
"Stuff like that never gets old, I must have had hundreds and hundreds of comments telling me things like that and it's just really amazing."
However, he added he had also received criticism.
"Throughout my whole life, not everyone's been nice you know being different and being as flamboyant and as feminine as me, people weren't always nice, so I've always had negative comments and horrible things said to me and I think that's what's given me my determination and my strength," he said.
The documentary is part of Extraordinary Me, a season of programmes for BBC Three which focuses on young people with unusual stories to tell.