'Action taken' over Gatwick Swissport baggage delays
31 July 2014

From the section

Sussex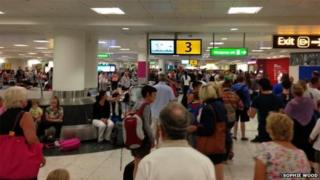 Measures are in place to minimise disruption after Gatwick baggage reclaim delays saw passengers go home without luggage, the airport said.
Airport bosses apologised to hundreds of passengers at the weekend after some reported delays of up to three hours.
These were caused by "resourcing issues" involving baggage handling company Swissport, Gatwick said.
Swissport said the delays were because it could not accommodate off-schedule aircraft arriving at the airport.
But Gatwick said Swissport had failed to meet standards.
A spokesman for the airport said Gatwick would be helping Swissport with extra staff and would offer a free baggage home delivery service for those who did not want to wait.
Passengers due to fly out of the airport over the weekend are advised to do so as planned and their luggage would be loaded and unloaded, an aircraft spokesman said.
He said more than 95% of passengers received their luggage within an hour but some may have to wait longer during really busy peak periods.
Service standards had been established for airport staff and ground-handling agents but Swissport had not met those standards, he said.
"Although bags are being delivered on time for 95% of flights, this is not good enough," he added.
He said passengers had been frustrated and the airport disappointed, but Swissport had committed to getting this right.
At the weekend, many travellers took to Twitter to vent their frustrations.
After the delays, Swissport apologised to passengers.
In a statement, it said there was a sustained period of consistent baggage handling throughout Saturday but service levels dropped later because of "off-schedule aircraft activity".
Gatwick said it would be drafting in up to 45 staff over the weekend to help.