Call to restore Bottle Alley in Hastings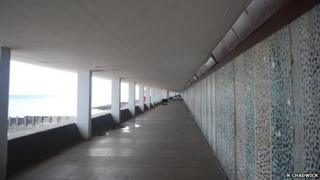 Almost 500 people have signed a petition calling for a walkway in East Sussex to be restored to its former glory.
Bottle Alley in Hastings was designed by Sidney Little, the borough engineer, in the early 1930s.
Located on the lower deck of the two-tier promenade, it provided a walkway featuring pieces of recycled glass embedded in a wall.
The borough council is asking residents for their views on its future.
Local historian Andre Palfrey-Martin said: "Sidney Little completely rebuilt the whole of the front line of Hastings, from the Old Town to Eastbourne, to what used to be the bathing pool.
"Bottle Alley was one of the unique elements of that, a two-tier promenade for about 1,500 ft (457m).
"In the warm weather you could promenade along the top, in the inclement weather you could walk on the lower promenade and you wouldn't get so wet."
'First recycling'
He said parts of the alley used to have shutters to protect walkers from the elements, while a cafe at the half-way point provided refreshments.
"It is unique in the sense that it's the first example of recycling," Mr Palfrey-Martin said.
He explained the glass was taken from the local tip by unemployed people before being broken up and set into the pre-made concrete panels.
He said campaigners would like to see the council clean the wall, put the lighting back to its previous level, and create a community area.
Jeremy Birch, leader of Hastings Borough Council, said: "We are going out to consultation within the next four weeks on a Seafront Strategy which includes ideas for the whole of the seafront, including Bottle Alley."
He said the authority would like to know if residents want Bottle Alley restored to its original state or if an alternative use can be found.