Devil's Dyke clean up after rave causes 'years of damage'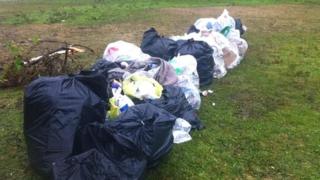 An operation to clean up a South Downs beauty spot where about 2,000 people attended an illegal rave and caused "years of damage", has begun.
The site on Summerdown, near the Devil's Dyke, is strewn with rubbish including beer cans, broken glass and pressurised nitrous oxide cylinders.
Rave organisers had tried to clear some of the litter after Sunday's event.
However, the National Trust said untold harm had been done to the habitat that would take years to recover from.
The organisation has appealed for volunteers to help clear up the chalk grassland site which is one of the busiest long distance paths in Britain.
'Britain's tropical rainforest'
Police had received reports of the event at about 01:00 BST on Sunday and it finished early on Monday.
Officers estimated up to seven sound systems had been used at the rave and about 400 vehicles were present.
Fires and barbeques were also lit across the area.
National Trust spokesman Charlie Cain said that while some objects had been removed, large amounts of rubbish had been left including glass bottles that had been trampled into the ground.
"Two thousand people's good weekend has affected a lot of people for an awful lot longer than a weekend," he added.
The organisation is also concerned about the damage caused to the local habitat, which they believe could take five to 10 years to recover.
They said chalk grasssland had been called "Britain's tropical rainforest" by biologist David Bellamy because of the high concentration of plant and animal species in the area.
But an organiser of the rave, who gave his name as Dave, insisted the grass would grow back and many people cleared their own rubbish.
Sussex Police has faced criticism for not stopping the event.
They said the decision not to was based on darkness, rain, the numbers present and the officers available at the time.