Brighton and Sussex University Hospitals Trust apologises over booking delays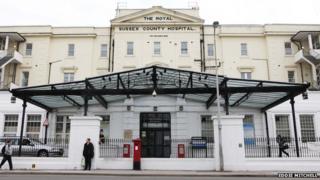 A hospital trust has apologised after a new booking system for appointments in parts of Sussex caused long delays and frustration for patients.
Patients in Brighton and Haywards Heath say they have had to wait weeks for referrals.
Janice Kent, from the Central Sussex Independent Patients' Forum, said many patients were "quite distressed".
Brighton and Sussex University Hospitals NHS Trust apologised but said the new system was vital.
Ms Kent said: "Some have become extremely angry and an awful lot of people are very worried."
Changes 'embedding'
Susan Edwards, from Portslade, said she had been waiting to see a consultant about her knee since November and was suddenly told "not to forget" an appointment she knew nothing about.
Trust chief executive Matthew Kershaw said the backlog was being cleared.
He added: "I'd say there's still some work to do because it's a big change that we're making and I would hope over the next month or so, those changes and improvements fully embed and we start to see the level of service that we want and our patients deserve.
"In the vast majority of cases that happens now, but where there are examples that it doesn't, we need to address each of those as we have been doing and we will continue to do so."