Phoenix Theatre in Lewes 'unlikely to be rebuilt'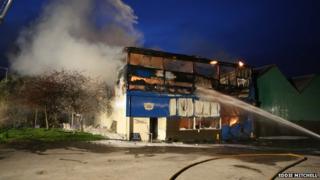 A theatre and art studio complex destroyed in a fire in East Sussex is unlikely to be rebuilt as it was, according to the local MP.
The blaze ripped through the Phoenix Theatre and Studio building on North Street in Lewes on Saturday evening.
Lib Dem MP Norman Baker said the studio was in a rundown area of the town, which was due for redevelopment.
"There are a lot of buildings that have temporary use and I guess it's not going to reappear the same," he said.
"But Lewes is full of quirky places and people making very creative use of buildings so I guess that the people who were there will reappear somewhere else - the Phoenix will rise."
'Devastated for artists'
The band Scott Free said on its website it was setting up to play for an 18th birthday party when the fire took hold.
Everyone evacuated the building safely but the band lost all its personal belongings and equipment including drum kit, guitars and speakers.
Nick Bush, an artist who worked from the centre, said he lost materials but was one of the luckiest.
"The other artists have lost a lifetime's collection of paintings and sculptures," he said.
"I am devastated for them. It was brilliantly set up and it will be missed."
Mr Bush said he had been told the flue from a wood-burning stove caught fire and set the building alight.
Mr Baker, whose own band The Reform Club rehearses nearby, paid tribute to East Sussex Fire and Rescue Service crews.
"They did a splendid job," he said.
"There was one guy up there in a cherry picker pouring water on to the fire. It must have been a pretty uncomfortable experience for him.
"It was an enormous fire, which seems to have caught hold very quickly."