Jobs could go in East Sussex fire service cuts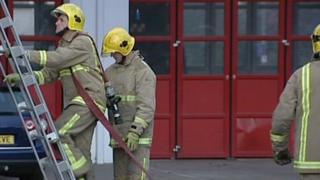 More than 40 firefighter jobs could go as East Sussex Fire and Rescue Service (ESF&RS) looks at ways to save money.
The service is considering removing an engine from either Preston Circus or Hove station in Brighton, cutting 24 jobs to save over £1m by 2018/19.
Another 20 jobs could go with the introduction of new ways of working at Roedean in Brighton and the Ridge in Hastings to save £432,000.
The Fire Brigades Union (FBU) said the changes would put lives at risk.
The plans have been unveiled by ESF&RS ahead of a fire authority meeting on 14 February which will consider putting them out to public consultation.
ESF&RS said it was in response to reductions in funding coupled with changes in the community it served.
The number of fires and other emergencies it attended had fallen as a result of prevention work, while funding from the government had been cut.
Other proposals include further changes to staff rotas at Battle and the Ridge stations.
'Massive impact'
ESF&RS service said the changes proposed over the next five years would have no significant impact on risk to life.
Chief fire officer Des Pritchard has said the ESF&RS budget will fall from about £40m by about £7m by 2018-19.
The fire authority is also considering raising its share of council tax by 1.94% in the next financial year, from £81.86 for a Band D property to £83.45.
The FBU said the cuts would reduce the number of firefighters in the county by 20% and would have a massive impact on the safety of the public and crews.
"These proposals would mean the public waiting longer for a fire engine when they need one, whether because of fire, flooding or to be cut from a road traffic collision," said East Sussex FBU secretary Mark Brown.
"Attendance times have already risen over the last few years and any further increases are not acceptable to firefighters or the public."