Green Party in Brighton and Hove faces no confidence vote
31 January 2014

From the section

Sussex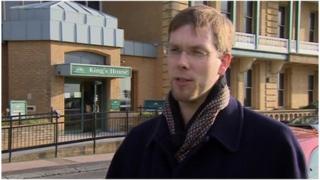 A vote of no confidence in Brighton's Green Party administration has been passed as the controversy over its proposed council tax rise intensifies.
The Green Party wants to raise council tax by 4.75%, which would need a majority yes vote in a referendum.
The Labour and Tory groups called on leader Jason Kitcat to stand down, but he said he was "not going anywhere".
Both the Labour and Conservative groups said they planned to oppose the Green Party budget next month.
'Crisis looming'
The Greens had put forward a tax rise of 4.75% to fund adult social care services and said the city would hold a referendum on the issue.
Mr Kitcat said there was "widespread consensus" among reputable charities that there was a crisis looming for social care.
He claimed by 2020 there would be no government funding for councils.
"We need to make a choice," he said. "Do we either pay some more through council tax to protect care for the vulnerable, or not?"
Mr Kitcat also said the Tory group wanted to freeze council tax while Labour wanted a 2% rise, and while those two groups could not agree, the Green Party's position would "hold true".
He said: "If the people come back through a referendum and say we don't want to pay more, absolutely fine, that will be democracy in action. But we think we should let the people decide."
Labour group leader Warren Morgan said his party wanted a 2% increase because a freeze would mean more cuts being forced on the council.
He said residents could not afford another £6 a month on top of all the other bills that were going up.
'Political squabbling'
Mr Morgan said he had called for a "caretaker" administration that would see all three parties governing on a consensus basis with a 2% tax increase.
"It would focus on getting those basic services like refuse collection right, instead of all this political squabbling and point scoring and gestures that people are coming up with - that is what residents are telling us they want," he said.
The city faced disrupted rubbish collections last summer and this month - the council later said it had made changes to the service but the transition period had not been as smooth as hoped for.
Conservative group leader Geoffrey Theobald said: "We believe there should be a council tax freeze, and that there is no necessity for a council tax rise if the council is run more efficiently."
He added: "You've got two left-wing parties both posturing ahead of next year's elections, desperately trying to outbid each other for the far left vote in the city.
"I don't believe that's the way to run a city and the vast majority of our residents are just getting caught in the crossfire of their personal battle."