West Sussex Angmering cow herd hit by cars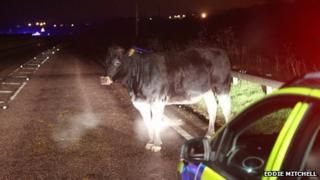 Two drivers were taken to hospital with injuries after their cars hit a herd of cows that strayed on to a road from a nearby field in West Sussex.
Sussex Police said about 30 cows went on to the A280 at Angmering near Littlehampton on Wednesday night.
Officers, passers-by and a farmer herded the animals back into fields, but two of the cows died, a police spokesman said.
The road was closed for about two hours, he added.