Tim Loughton MP wants stillborn baby 'recognition'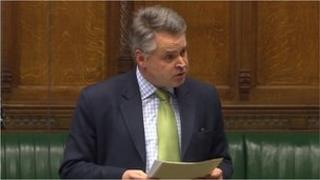 Children stillborn before 24 weeks should be given official recognition by changing the law, says a Sussex MP.
Tim Loughton MP, who represents East Worthing and Shoreham, introduced a private members bill earlier.
The Conservative MP said at the moment, if a mother loses her baby before the third trimester, the state does not recognise the child's existence.
He added that some parents are expected to return to work immediately after a stillbirth before 24 weeks.
"Losing a child is a traumatic experience at the best of times but giving birth to a stillborn child whose existence is effectively not acknowledged is particularly harsh and I think the law needs to be changed," he said.
He called for a revision to the Births and Deaths Registration Act 1953 section 41.