'High risk' Fishbourne level crossing closed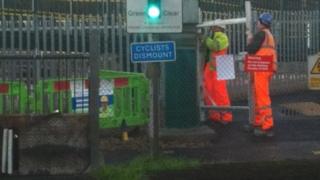 A level crossing where three people were killed in the last 18 years has been closed after a £3m footbridge over the railway was completed.
Network Rail said the level crossing at Fishbourne, near Chichester in West Sussex, was considered high risk.
There have also been 22 near misses on the crossing and 18 acts of vandalism, it said.
Fishbourne resident Julian Snell said there was a 12-year campaign in the village to have the crossing closed.
The new footbridge, linking Fishbourne Road East and Westgate, was opened at the end of August.
'Bridge struggle'
But Mr Snell said people continued to use the level crossing, including children and students from a school and college nearby.
"My eldest daughter actually witnessed an elderly gentleman about 10 years ago getting killed on the crossing so I have got personal knowledge of the things that happen," he said.
"It has taken a 12-year struggle to get the bridge in place, so I am very pleased.
Network Rail said the footbridge provided the public with a much safer route across the busy section of railway.
It said the footpath would be closed from 13 January due to concerns for public safety and an application for permanent closure would be put before magistrates in due course.