Gatwick Airport rail link shut by engineering work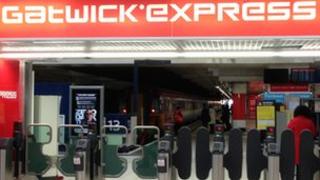 The railway line between Purley and Gatwick Airport has closed for the day, less than a fortnight after a week-long closure.
Passengers going to the airport from London will need to use a replacement bus service adding up to 90 minutes to journey times, Southern said.
Buses will be laid on for passengers from East Grinstead station.
The Gatwick Express service will also not be running from London Victoria to the airport on Sunday.
There will also be a reduced rail service between Gatwick Airport and Brighton, the train company said.
The rail link between London and Gatwick Airport was closed between 26 December and 2 January to allow work on to be carried out on the line and at Gatwick station.