Drusillas zoo annual animal count held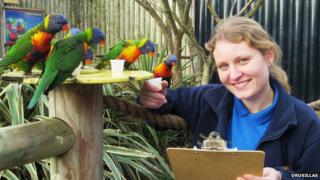 An East Sussex zoo has begun to count its animals as part of its annual stock check.
Drusillas Park in Alfriston said it had 116 different species with more than 1,000 individual creatures.
Claudia Perryman, a senior keeper at the zoo who is overseeing the census, said the counting process can take several days.
She said: "It's important to make sure our figures add up for all the animals in the zoo."
Counting some of the smaller creatures involves patience and "plenty of double checking", she said.
"As well as counting the monkeys we even have to count the invertebrates including stick insects and cockroaches too."
New arrivals at the park since the last stock check include a Goeldi's monkey, a silvery marmoset, a red-handed tamarin and a black lemur.
The results of the stock-check are fed through to the International Species Information System (ISIS) which tracks the movement of zoo animals, together with details of their genetic background.