Brighton's Lanes to benefit from redevelopment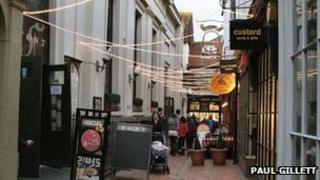 One of Brighton's main attractions is to benefit from its first major redevelopment since the 1960s.
The Lanes' historic quarter is renowned for its independent shops, boutiques, restaurants, cafes and buskers.
A scheme approved by Brighton and Hove City Council this week will now see the creation of a new pedestrian "lane".
The 17th Century Puget's Cottage, hidden for years behind an electricity sub-station and another building, will also be uncovered and preserved.
The building is one of the oldest in the city.
The new lane, from Meeting House Lane to Brighton Place, will be created behind the former Hannington's department store.
The scheme will also include new retail units, homes, offices, and a 26-room hotel to be built in Brighton Square as part of renovations there.
Councillor Phalim McCafferty, chair of the council's planning committee, said the development would "combine new buildings with a respect for the old".