Dozens answer Eastbourne war veteran funeral appeal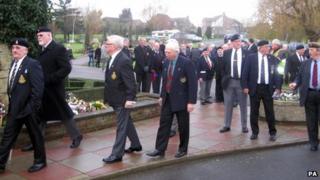 More than 100 strangers have attended the funeral of a Bomber Command pilot who died without any close family or friends to mourn him.
Robert Argyle, who died at the age of 92 in Eastbourne, East Sussex, flew 45 operations over Europe during World War Two and went on to serve in Burma.
An appeal was made for people to join the eight staff and residents of his sheltered housing block at the funeral.
The Royal British Legion said it was an opportunity for people to show respect.
"It would have been awful for Robert, having done what he has done in his life, to have gone out with just half a dozen people to see him off," said Joe O'Riordan, president of the Polegate branch of the legion.
'Very haunted'
Details of the funeral, at Eastbourne Crematorium, were circulated by charities and organisations including Help for Heroes, Support for Forces and Eastbourne Borough Council.
Mr Argyle, who never married, has an older brother, who is believed to have died in Canada and some distant relatives.
He spent the last years of his life at St Clements Court sheltered housing scheme.
Manager Shirley Duker said: "He was a very shy, very unassuming and quiet man.
"He rarely spoke about his wartime achievements as he was the kind of man who didn't share too much.
"I think he was very haunted by what he experienced."
His friend John Rowntree said: "He was an extremely courageous man to have flown sorties over Germany and then go and fight the Japanese in the jungle."
Mr Argyle was born in Ottawa, Canada, and came to England as a boy to be educated.
After the war he worked in the finance industry.