Michael Polding 'offered to marry' murder accused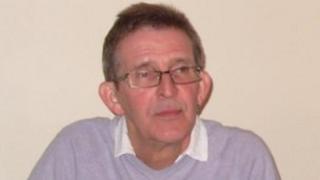 A self-confessed rent boy accused of murdering a man he lived with in Brighton has told a jury the pair had discussed getting married.
Ricardo Pisano, 36, said 62-year-old Michael Polding threw an engagement party at one point but that he did not feel comfortable about it.
Mr Pisano told Lewes Crown Court he did not consider himself gay but did believe the pair to be friends.
He denies murdering Mr Polding and causing grievous bodily harm.
The court was told the two men had a complicated relationship which began on 2009 when Mr Polding answered an advert in a gay magazine for a male prostitute.
A few months later Mr Pisano moved in to Mr Polding's flat in Croydon, south London.
Mr Pisano said his nickname for Mr Polding was "St Mikes".
"When I met St Mikes I was at a very low point and I wanted to take my own life," he said.
"He took me out of it and made me see differently, that I should not worry and that something good would come.
"He was a very caring person - very caring and understanding."
He told the court Ricardo Pisano was not his real name and that he had a daughter and an ex-wife in South Africa, who he had not seen since leaving the country in 2000.
He said Mr Polding gave him money to send to his family and offered to marry him in order to sort out his "visa issues" so he could stay in the UK.
Mr Pisano said he had been jailed in New Zealand for extortion, then lived in Australia for 18 months and arrived in the UK illegally in 2004.
He said Mr Polding knew about some of his past, including that he feared for his life if he returned to South Africa.
He said Mr Polding moved to Brighton after selling his share of his home in Croydon, taking Mr Pisano and the defendant's friend Emmett Friel.
Mr Polding, who had health problems and would often fall over, began drinking even more heavily than normal once he had received the money from the house sale, he added.
He told the court he tried to stop Mr Polding from spending so much.
"St Mikes paid for everything," he said. "Emmett said he paid for bills when he was living there but that was not true," Pisano said.
The court has heard Mr Polding's body was found nearly two months after he died from "blunt force trauma" to his chest.
Mr Pisano claimed in a police interview Mr Polding committed suicide by hanging himself from a banister.
He said he tried and failed to revive him and then panicked and fled.
Mr Pisano, who admits a charge of preventing the lawful and decent burial of a body, went on the run for nearly a year until he was arrested in Southampton on 7 May.
The trial continues.