PCCs in the South East still have points to prove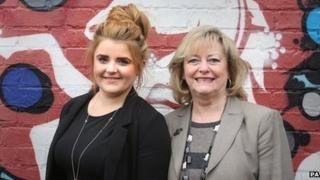 The election of US-style police and crime commissioners (PCC) was billed as the most radical reform of policing in 50 years.
But, despite some high-profile candidates - such as ex-Deputy Prime Minister Lord Prescott - turnout was the lowest in peacetime Britain.
Fewer than 15% of voters turned out in the 41 English and Welsh police areas electing a PCC.
Ministers blamed a lack of familiarity and understanding of the PCC's role.
So, one year on, has that changed?
Ended in tears
In the case of the PCC for Kent, Ann Barnes, who stood as an Independent, she's certainly raised awareness of the role. She's hit the headlines - though not always for the right reasons.
She's certainly got out and about, meeting the public about policing issues - mostly in her camper van - Ann Force One.
When Ms Barnes was sworn in November, she said wanted to be "a focal point, connecting policing with the communities in the county".
But her year has not been problem-free.
Her first challenge: Paris in the springtime.
The manifesto pledge to appoint a Youth Police and Crime Commissioner to represent the views of young people ended in tears.
Sixteen-year-old Paris Brown resigned just six days into the £15,000-a-year job, following criticism of comments she had made on Twitter.
Targets under fire
In June, the heat was on Kent Police when a report found one in 10 crimes in the county had been inaccurately recorded.
The race to meet crime targets was blamed.
She told the Chief Constable Ian Learmonth she needed to be assured that would never happen again.
Critics pointed out she had been the chairman of the police authority before her election, so should share some of the blame.
But Ms Barnes claimed victory, saying details came to light only because she initiated the report.
As the summer drew to a close, so did the career of Mr Learmonth, who announced his retirement in October after 40 years in the police service.
As PCC, Ms Barnes has the power to fire and to hire the chief constable. She's now expected to recruit someone for the post by December, making it one of her first major tasks of her second year.
The MP for Rochester and Strood, Mark Reckless, said the new system meant PCCs had to be a lot more accountable.
He said if she made mistakes now she was now held to account, which is different from when she was just one of several members of the police authority.
Kent Police Federation leader Ian Pointon said little has changed for officers on the beat, but chief constables do take more notice of the PCCs than they did of the police authority.
Challenging year
In Sussex, Conservative-backed Katy Bourne says she is delivering on her promises of putting more police on the streets and making the force more accountable.
She's also had a challenging year, though.
Policing the anti-fracking protests at Balcombe is estimated to have cost about £4m.
She appointed her deputy, Steve Waight, against the judgement of the Sussex Police and Crime Panel, which said he did not have the time for the job. He resigned after just six months.
And there was criticism of the use of so-called "plastic police" officers when the force announced plans to allow recruits with only four weeks' training to investigate crimes.
Zero-tolerance
In Surrey residents chose Kevin Hurley, a former police chief who served for 30 years.
He promised to bring a zero-tolerance approach to policing in the county - perhaps bringing him much closer to the style of former US Police Commissioner Bill Bratton, who helped drastically reduce crime in New York.
Of course, it's too early to say whether he will achieve anything like that success.
Questions were raised when he appointed his £55,000-a-year deputy without a recruitment process, given that one of the main aims of PCCs was to make policing more open and transparent.
But he dismissed those criticisms, saying the role was too important for him to go through the process of interview boards with people he didn't know.
One year into the era of PCCs, Bernard Rix, a policing consultant who has written a report on the performance of all 41 across the country, said: "They need to be demonstrating that they're actually delivering, so not just engaging with the public but making a real difference - and that is very much yet to come."
There's no doubt it will take police and crime commissioners some time to get to grips with the demands of their new role. After all, it's uncharted territory.
The PCCs for Kent, Sussex and Surrey - like all those across England and Wales - now have three years to prove their worth to the public before standing for re-election.