Bognor homeless expected to fill new Glenlogie hostel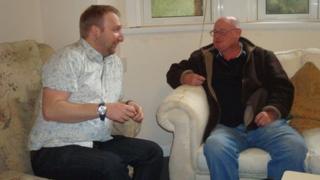 Charity workers at a new shelter for homeless people in one of the most deprived areas of West Sussex expect it to be full every night until spring.
Glenlogie House in Clarence Road, Bognor Regis, which has 10 beds, will be open until April.
The project is being run by the Stonepillow charity with Arun District Council (ADC) and the county council.
Glenlogie House has previously been used for severe weather provision when the temperature dropped below zero.
The latest scheme, being run as a pilot for seven-nights-a-week, enables each client to stay for up to 28 days.
Deprivation 'on coast'
The Bognor, Littlehampton and Arundel area has one of the highest per capita rates of homelessness in England.
The official count for the Arun district in 2012 was 36 - a 40% increase from the 26 counted in 2011.
A report by Sussex Community Foundation, published on Thursday, showed pockets of deprivation centred on the county's coastal towns.
The aim of Stonepillow's staff in Bognor and at its other hostel, St Josephs in Chichester, is to move rough sleepers into more permanent accommodation when they leave.
"That may mean reconciling them with partners or parents so they can get back into the family home or into supported accommodation or into the private rented sector or council housing," said Mr Jones.
ADC cabinet member for housing Roger Elkins, said the shelter would give better support to some of the most vulnerable people in the community.
"But, it's not just about providing a roof over their heads," he said.
"The extra provision includes workshops to help give the people who use the shelter the skills and confidence to change their lives for the better."