Newhaven perfume factory blaze treated as arson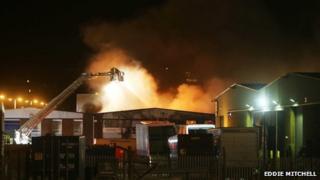 A blaze at a perfume factory in Newhaven is being treated as a suspected arson attack.
About 60 firefighters tackled the fire at Quintessence Fragrances industrial unit on the Hawthorne Industrial Estate.
East Sussex Fire and Rescue Service does not know how the blaze started, but Sussex Police said the force was treating it as suspected arson.
The fire at the factory in Avis Way broke out at about 01:40 GMT.
Emergency teams said no-one was injured.
'Pretty severe'
Surrounding roads were closed during the incident because the unit contained flammable substances and chemicals.
Avis Way remained closed on Thursday morning while investigations were carried out, but later reopened.
Kylie Gash, a perfume distributor at the factory, said staff were shocked.
"Everyone is pretty upset - a lot of people have worked here a long time," she said.
But production manager Dave Virgin said: "It's only damage to property and hopefully the business will still come through it."
Richard Moon, from the fire service, said the blaze had caused severe damage to the industrial unit.
"It's been complicated by the fact that there are chemicals involved, because it's a perfume manufacturer, so at its worst it was pretty severe and it was decided that 12 appliances was the appropriate level to deal with it."
He said a hazardous materials officer was on site to identify chemicals.
Earlier, the fire service said it received more than 40 calls from people who saw flames coming from the building.