Brighton and Hove teachers stage march and rally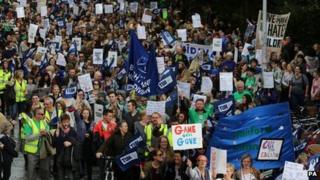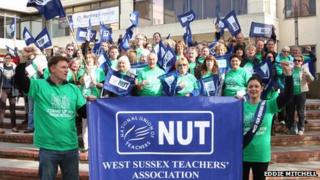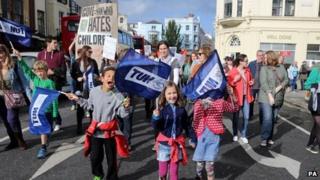 More than 2,000 teachers have gathered in Brighton for a march and rally in a dispute over pay, pensions and jobs.
A total of 58 out of 76 schools shut in Brighton and Hove, with four others partially closed.
In East Sussex, 37 are closed and 18 are partially closed and in West Sussex, 102 schools are closed or partially closed.
Rallies are also being held in Eastbourne and Hastings as part of the industrial action.
The action is part of a campaign of regional strikes involving members of the NUT and NASUWT unions, which say their members make up 90% of teachers.
'We're parents too'
Teachers are objecting to proposals by Education Secretary Michael Gove to bring in performance-related pay, increase their workloads and make changes to their pensions.
Led by a man playing bagpipes, the teacher's parade in Brighton brought part of the centre to a standstill.
Demonstrators made their way from the Pavilion Gardens to the Brighton Centre chanting: "What do we want? Gove out. When do we want it? Now" and "No ifs, no buts, no education cuts".
Ron Gordon, a teacher at Blatchington Mill School in Hove and a member of the National Union of Teachers (NUT) said: "We really do regret the disruption it causes to children's education, we're parents as well, we understand their issue.
"But the responsibility for this dispute lies squarely with the government because it keeps on going after different aspects of our terms and conditions and we feel that the net result of that will be bad for teachers but also bad for children in the long run."
Prime Minister David Cameron told BBC Sussex that responsibility for the walkouts lay with the unions and he was "disappointed" they had decided to strike.
He said: "It is very inconvenient for parents, it is not good for pupils' education."
A spokeswoman for the Department for Education added: "All strikes will do is disrupt parents' lives, hold back children's education and damage the reputation of the profession."
Teachers met at the Pavilion Gardens, Brighton, Eastbourne Town Hall and White Rock Theatre, Hastings for rallies earlier.
Unofficial picket lines have been set up at some of the closed schools.