Kent shop thief snatches £8,000 model traction engine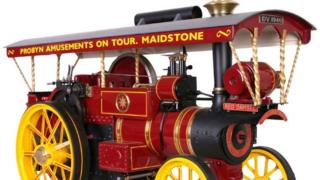 A model of a vintage traction engine worth £8,000 has been snatched from a display at a shop in Kent.
The model, of a Burrell Showmans engine, was stolen from the Maxitrak store in Lodge Road, Staplehurst.
Kent Police said the theft was thought to have happened on 18 September but the shop owner did not realise until later.
A man described as white and aged between 18 and 32 was seen grabbing the engine during a review of CCTV footage.
Weighing 12kg (26lb), the model is 21in (53cm) long, 8in (20cm) wide and 12in (30cm) tall.
It has the words Probyn Amusements Maidstone written on the top.
A Kent Police spokesman said no car was seen at the time of the theft but because of the model's size and weight, it is thought it was driven away in a vehicle.