Balcombe protesters told to move from B2036 verges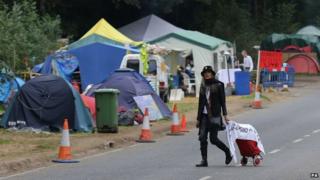 Demonstrators still at the site of an anti-fracking protest in West Sussex have been handed letters urging them to move from roadside verges.
West Sussex County Council (WSCC) said it had given out the letters because of welfare and road safety concerns about people camped by the B2036 London Road.
More than 1,000 protesters set up camp at the height of protests against oil exploration in Balcombe, in August.
Activists have begun clearing the camp and say it will be gone by Tuesday.
They started dismantling tents, banners and other structures on 30 September following two months of demonstrations against energy company Cuadrilla.
The firm removed its drill rig and left the site on 27 September.
'Busy unlit road'
WSCC said there were still people camped on the verges and a hut had been erected.
"This is a busy, unlit road with a 60 mph limit," it said.
"There is now a greatly reduced police presence, and also evidence that the speed of vehicles passing through this area is increasing.
"The weather is also changing, and daylight hours are reducing which also increases the dangers.
"As a responsible highway authority, we simply cannot have people putting themselves and drivers at risk."
WSCC applied to the High Court for a possession order for the roadside verges last month, but the hearing was adjourned after the protesters gave an assurance that they would leave once the drilling work ceased.
The council has until Tuesday to apply to the court for the possession order to be re-activated but said it had not yet made a decision whether to do so.
Cuadrilla has applied for new permission to carry out "flow tests" to determine the rate of extraction at the well after test-drilling found oil in rock samples.
The site saw protests over the summer amid fears that fracking might take place in the future but Cuadrilla has said the new application does not include a request to carry out the process.
Campaigners have said they will vacate the site but have pledged to come back if Cuadrilla returns.