Fugitive murderer Paul Flint could be in north London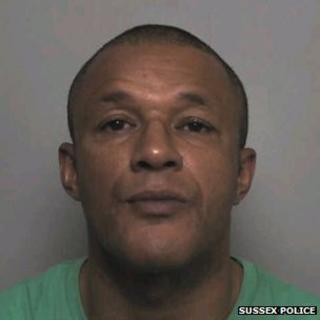 A convicted murderer who walked out of an open prison in Sussex could be in north London, police have said.
Paul Flint, 48, who has convictions for murder and burglary, walked out of Ford Prison on 1 July.
Officers from Sussex Police believe he may be linked to two burglaries in Hove, on 8 and 15 July, and one in Brighton, on 5 August.
A force spokesman said Flint was likely to commit more crime unless he is arrested.
Flint is described as black, 5ft 11in tall and of stocky build with black/greying hair and wearing glasses.
In June 2012, he was on the run for six days from a Suffolk jail after failing to return from day release.
Det Insp Dave Richards, of the Chichester Response Investigation Team, said: "There is recent information that suggests Flint may be in north London.
"We think he is likely to commit more crime unless he is arrested so I would urge anyone that sees him to contact us immediately."
He said people should not approach Flint, but dial 999.
A Ministry of Justice spokesman said all prisoners located in open conditions had been "rigorously risk assessed and categorised as being of low risk to the public".