Residents in temporary housing after Sussex care home fire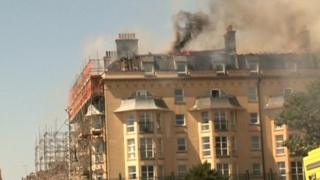 Thirty-four elderly residents have spent the night in temporary accommodation following a fire at their care home.
Fire crews have remained at Marlborough House, in Warrior Square, St Leonards, damping down and cutting away parts of the roof structure to expose hotspots.
East Sussex Fire and Rescue were called to the six-storey building, comprising of flats, at 08:30 BST on Sunday.
The fire started in a top floor flat, and quickly spread across the roof space. No-one was injured.
Sussex Police said three people were taken to hospital - one man as a precaution, a woman to access medication, and a third person who reported feeling unwell.
'Good spirits'
At its height, about 55 firefighters were involved in tackling the fire.
Residents were taken to a church hall immediately after the building was evacuated.
Hastings Borough Council said 22 were accommodated overnight in nursing and residential homes in Hastings, Bexhill and Eastbourne.
The remaining 12 residents stayed with friends and family.
Cause investigated
Council leader Jeremy Birch said most of the residents had been "in pretty good spirits".
"They are worried, naturally, about their flats, about their personal possessions, about those things they treasure," he added.
A structural engineer has been looking at the building, but it is unclear whether the residents will be able to return.
Talks are being held between the council and Hyde Housing, which owns the building, on their future.
Several nearby buildings were also evacuated, although fire crews were able to contain the fire to Marlborough House.
The cause of the fire is under investigation.