Constable plaque unveiled at Brighton house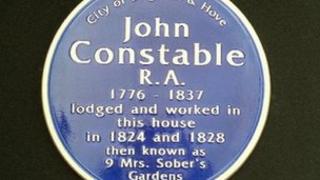 A blue plaque has been unveiled to mark a Brighton house where landscape and portrait painter John Constable lived and worked in the 1820s.
Constable made about 200 paintings and drawings during his four years in Brighton, where he moved to try to ease his wife Maria's TB symptoms.
The house, in what is now Sillwood Road, was then 9 Mrs Sober's Gardens.
Artists Peter Harrap and his partner Natasha Kissell now use Constable's top floor painting room as a studio.
Mr Harrap nominated the house for the plaque, awarded by Brighton and Hove City Council.
During his time at Mrs Sober's Gardens, Constable painted many views of the town including Seascape Study with Rain Cloud and Brighton Beach.
The plaque was unveiled by his great-great-grandson Richard Constable.