Chichester welcomes 20mph street limits
1 July 2013

From the section

Sussex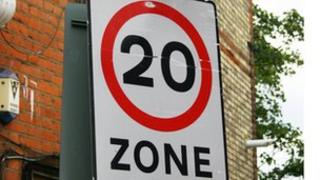 Speed limits of 20mph are coming into force on residential streets in Chichester.
The change was brought in following campaigns and petitions by residents across the West Sussex city.
Campaigner from 20's Plenty, Sarah Sharp, said nearly 77% of people who took part in a survey backed the move.
But Ian Taylor, from the Alliance of British Drivers, claimed accident figures had increased in places that had brought in 20mph limits.
He said: "One of the main reasons is what I call the complacency factor. Vulnerable road users are actually told and encouraged to feel safer. It's a natural instinct if the traffic is going slower.
"They get complacent, they take less care, they come a cropper."
Ms Sharp said the 20mph campaign had started with a residents' association petition and ended with celebrations over the weekend, including a street party, balloon launch, scooter decorating competition and a 30mph pinata.
She said: "If you ask mums and dads and older people, that's what they want for their streets. They want their children to be able to play out."
Public support
Earlier this year, West Sussex County Council said the change was made to make the streets quieter and to boost the city's economy because more people were likely to use local shops than travel out of town.
The council said most people felt safer in 20mph zones and found it easier to cross roads, ride bikes and play outside.
It said 5,613 people responded to consultation last year and three out of four supported the change.
The 20mph zone covers every residential street in the city except A and B roads.