Kennedy's meeting with Sussex schoolboys recalled 50 years on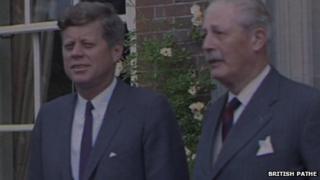 For 80 schoolboys sent to welcome an important visitor home from church 50 years ago the significance of the moment would not dawn on them until years later.
That Sunday, some of the pupils of Cumnor House School in West Sussex were more interested in President John F Kennedy's car than its occupant.
"I remember to this day the huge 20ft bullet-proof limousine sweeping into the drive and JFK getting out with all his secret service minders," said Hereward Ashby.
"But boys being boys, there were more comments about the amazing car than that we had just met JFK."
President Kennedy had been to church in Forest Row while staying the weekend with Prime Minister Harold MacMillan at his home in Horsted Keynes.
The idea was that the boys would line the drive at Birch Grove House while the president and prime minister drove past, but Kennedy stopped the car and spoke to them.
"That this important man with such responsibility should take the time to get out of his car and talk to us little boys was absolutely staggering," said Robert Gussman, who was 12 at the time.
"Our breath was taken away by that."
Mr Gussman's entry in his diary for Sunday 30 June 1963 was less effusive than his recollection: "Breakfast not bad, went and saw President Kennedy and shook hands with him - also on the news. Wrote to my parents. Church - sang an anthem - had lots of rehearsals for Midsummer Night's Dream."
JFK's weekend in Sussex on 29 and 30 June 1963 was part of a longer trip to Europe at the height of the Cold War.
Five days earlier he was in West Berlin delivering his famous message of hope - the "Ich bin ein Berliner" speech - to 400,000 people on the steps of the town hall of the suburb of Schoneberg.
His Europe trip also included a visit to his ancestral home in County Wexford in the Republic of Ireland.
The charismatic young president attracted crowds everywhere he went.
In Sussex, there was was a demonstration by ban the bomb protesters from CND but when he came out of church that Sunday morning, he did another unscheduled walkabout.
A former British policeman on duty at the time recalled it caused "absolute mayhem".
Within months of Kennedy's European trip, on 22 November, he was assassinated in Dallas, Texas.
"I remember when the news came through to us that he had been assassinated the dormitory of 20 boys was completely silent," said Mr Gussman.
"We thought, 'what is going to happen next?' The whole world felt as if it was about to fall apart."